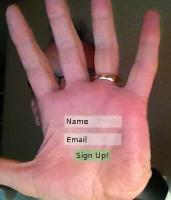 Are you using email to communicate with your audience? You probably should be. One of the most effective ways of communicating with a group of people is with an email list, even in today's Twitter and Facebook culture. In order for your list to be effective, it first needs to exist, and then you'd like for it to grow. Just how do you let people know about it and get more email subscribers?
Typically, you'll have a sign up form somewhere on your website, possibly on your Facebook page and you might get some referrals from current subscribers. In order to get more attention for their email list, there are plenty of folks employing pop-ups and overlays to get people to sign up for their list. You may even already subscribe to this site's email updates, but you get the pop-up, just the same. I'm not sure this method is the best way to do that.
Some will try to soften the blow and wait 5 - 10 seconds, or even longer, before throwing the pop-up in the way of what you're reading. But, most often as soon as the page starts to display, you'll be staring at a pop-up, pleading with you to subscribe to their email list. ​You've probably experienced it at least once this week - you click on a link in a tweet, Facebook share or Google+ post, and on arriving at the site, you're faced with a pop-up, one you can't ignore because it's keeping you from reading the content you came to read.  
This practice is obtrusive, to say the least. Most who employ these tactics point to studies that show they are effective. Does effectiveness excuse the behavior? Imagine, for a moment, this happening in another context - you go to talk with someone, and immediately they put their hand in your face. This may be someone you've just met or have known for a long time. What is your reaction?
The web is a conversation, not a speech. Develop relationships with people in your digital channels, offer value and be relevant. As Gary Vaynerchuk would say - Jab, jab, jab, right hook. Give, give, give. Then ask.
Make your sign-up easy to find
Be clear what you're offering and the value they will receive
Keep giving them what you promised them, when you promised
Provide some social proof
Give them something first - a download, a video, a great blog post
Leave them in control - different subscriptions, different frequency of emails, and make it easy for them to unsubscribe
What's your experience been with email lists and subscriptions? Would you advise people any differently?