Back on August 19, the ChSocM chat topics were centered around the rising use of videos on social media and websites, and during gatherings. Here are the questions that guided that conversation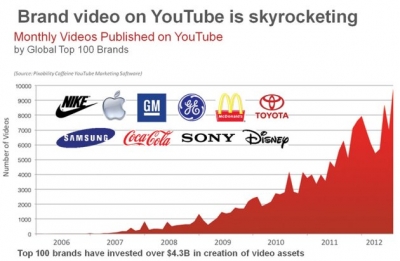 Q1: Why should we use video in social media?

Q2: What's a way you've seen video work really well in various ministry settings?

Q3: Where have you found good video for #ChSocM purposes? 

Q4: For those who've created videos - any learnings, tips, tricks?

      Q4A: How about good software/apps for managing and editing video?

Q5: Quick. Name a biblical story that could work really well (not corny) through the medium of video.
In response to Q1, the social cues and statistical evidence for using video are quite compelling.
We upload 100 hours of video to YouTube every minute, and watch 6 billion hours of video monthly just on that platform
Visual content is posted more, and shared more, that any other type of content. http://www.socialmediaexa ... -research/
Pinterest, Vine, and Instagram (three new fast-growing entries into SM that focus on visual content) all allow posting of videos. Vine is video only (albeit, each video is limited to 6 seconds)
Are those reason enough to foray into video for your ministry? Consider these points from traditional media studies
Cinematography students get assignments to watch movies with the sound off, so they can better see the visual elements and understand its contribution.

Radio moved from a foreground media to a background media. Video has done the same. Is your TV on in another room? How many screens do you divide your attention between while 'watching' TV (phone, tablet, laptop)?

Facebook autoplays videos in your news feed - with the sound off. Which will you click to watch and hear? What compelled you to do so?
So, before you jump into video headfirst - what else should you consider?
Strategy
What strategic value does it have for your mission?

Is there a visual component to the message?
Audience and Scope
Are you appealing only to visual learners?

Viewing videos comes with requirements - a device capable of viewing video, an internet connection capable of supporting the video and audio data

, an environment suitable to divert your attention to the device.
Photos are a complete message without any further actions necessary, unless they just want to see a larger version. Videos require another click to play.

Will you create this content yourselves, or curate and redistribute other videos?

Search engines rely on text - posts containing embedded videos, video descriptions, transcriptions, tags, and meta information.  Currently, you'll have to transcribe it or have a very good description of the video in order for it to show up in search results.
Audio has a wider audience because it can be consumed without screen time.
Message
Is the message visual, or are there visuals that can enhance the message?
Are the visuals in keeping with your branding?
Quality is important - is the dialog audible? Is the video stable? Is the lighting adequate? These are parts of your message, too.
Resources and Technology
What equipment will you need?
What software will you need?
Where will you host the completed videos?
Where will you distribute this visual content?
What will the bandwidth needs be? What about storage space?
What skills will you need? Who has those skills?
T1 Just because you can shoot video, doesn't mean you should. Strategy first, then tactics, then choose tools. #chsocm

— MeredithGould (@MeredithGould) August 20, 2014
Looking for something else to read about video and content? Here's a starting point.

Are you using video in your ministry? Send us some links! And, let us know the things you learned along the way.
Are you considering using video in your ministry? What questions do you have?